Cargo logjam building after Covid disrupts handling at Shanghai Pudong Airport
Sam Whelan
Covid-testing has disrupted cargo operations at Shanghai Pudong Airport (PVG) today, with widespread delays and flight cancellations expected over the weekend.
Ramp handler Shanghai International Airport Services (SIAS) suspended activities after a positive case was detected, and all staff were sent for testing or quarantine, according to forwarders.
One said: "But PVG is not closed – none of terminals are closed, that is just a rumour – the problem is with the ramp handler only."
Nevertheless, the impact is likely to be substantial. The forwarder said there were serious delays for flights today and over the weekend, with many more cancellation notices expected from airlines next week.
He added: "SIAS is the major aircraft ramp service provider for almost all foreign airlines at PVG. It is likely that some flights will fly out without cargo, or be severely delayed waiting for limited manpower to resume to handle the aircraft.
"Therefore, this sudden problem will surely lead to further disruption for many airlines."
Ans, as a result he said, more cargo would be offloaded and pile up at PVG, confirmed rates and bookings for cargo would be no longer valid and "forthcoming air freight rates will soar due to the serious lack of capacity".
Indeed, in a notice to customers, Qatar Airways Cargo chief officer Guillaume Halleux said: "Due to the continuing outbreak of coronavirus cases in Shanghai, we are facing innumerable challenges affecting our operations. These unforeseen challenges are beyond our control. Our ground handling agent has advised us that there is no manpower available to handle any incoming and outgoing flights from Shanghai.
"In view of this, we are temporarily restricting the acceptance of all cargo into and out of PVG until further notice."
The airport had already been operating with a reduced workforce, after ground handling staff walked out over harsh new quarantine rules.
Rickard Ingvarsson, CEO Asia at Scan Global Logistics, said the company had received confirmation SIAS had suspended operations until further notice, disrupting cargo handling for some 17 airlines, including freighters and pax-freighters for major cargo carriers such as Air China, Cathay Pacific, Qatar and Etihad.
He added: "There are rumours that [cargo terminals] PACTL and Eastern Air Logistics will stop accepting cargo, too."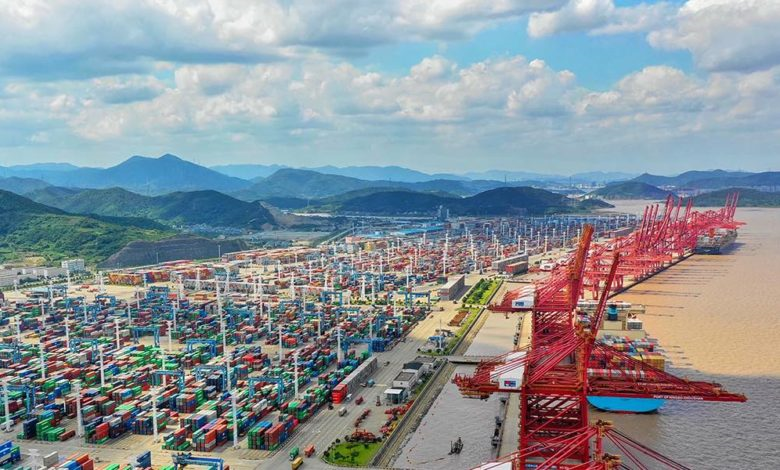 Cargo operations resume at Ningbo after partial reopening
Keith Wallis, Special Correspondent
Four Ocean Alliance container ships berthed at Ningbo's Meidong container terminal for the past week should complete cargo handling operations and sail on Friday following the partial reopening of the key east China gateway, shipping sources said Thursday.
Hapag-Lloyd had been told cargo operations were taking place on foreign-flagged container ships Thursday after cargo working on domestic feeder vessels resumed on Wednesday, a company spokesman told JOC.com.
"Domestic feeder vessels have completed the cargo operation and are sailing this morning, and currently Meishan 6 terminals are working on foreign vessels now," he said.
According to AIS Live, part of IHS Markit, there are 25 container ships at Ningbo, equating to 189,234 TEU in total capacity at port.
The Meidong terminal was shuttered after an ocean carrier employee tested positive for COVID-19 on Aug. 11. Shipping sources told JOC.com they expected a steady ramping-up with more cranes operating from Aug. 25 with full, normal operations starting from Sept. 1 after extensive testing of about 50,000 people in and around the terminal found no new COVID-19 cases.
Shipping executives and a senior China-based freight forwarding executive with strong links to Ningbo confirmed that cargo working on the vessels was taking place. That came after port officials reassessed the situation at Meidong on Wednesday, shipping executives said.
Four ships – CMA CGM Rivoli, CMA CGM Samson, Evergreen's Ital Lunare, and Cosco Shipping's Xin Ri Zhao – are berthed at the Meidong terminal, also known as the Meishan Island International Container Terminal (MSICT).
According to revised sailing schedules, CMA CGM Samson is due in Shanghai on Sunday and CMA CGM Rivoli at Yantian on Monday, while Ital Lunare is expected in Xiamen on Saturday.
A Maersk source told JOC.com that while laden gate-in services resumed at MSICT from Thursday, the carrier is "still waiting for an official announcement from the port" regarding the terminal's reopening. The Hapag-Lloyd spokesman said new vessels would not be permitted to berth until Ningbo port authorities announce when the terminal will fully reopen and resume normal operations.
CMA CGM said Tuesday that five vessels operating trans-Pacific, Asia–Europe, and intra-Asia services would call at Ningbo's Beilun and Yongzhou terminals from Aug. 18. Ships operating the same routes had been skipping Ningbo until Aug. 17.
Disruption less severe than Yantian
The Meidong terminal is mainly used by Ocean Alliance members Cosco/OOCL, CMA CGM, and Evergreen Line. Most other major carriers, including Maersk, Mediterranean Shipping Co., HMM, and Ocean Network Express call at Ningbo's other terminals, which have remained fully operational, although yard access has been reduced to two days prior to a vessel's estimated time of arrival to reduce congestion.
According to a China-based freight forwarding executive, the disruption was less severe than the bottlenecks caused by the month-long closure of the Port of Shenzhen's Yantian terminal earlier this summer thanks in part to a more streamlined terminal management structure in Ningbo. "Ningbo-Zhoushan Port Group operates most of container terminals directly, including Meishan," the executive told JOC.com. "This gives the flexibility of shifting vessels between the different terminals; shipping lines are dealing with the same company.
"In Shenzhen, Yantian port is operated by Hutchison Port Holdings, while the other Shenzhen ports like Shekou and Chiwan are operated by different companies including China Merchants, hence it is a little more difficult to co-ordinate," he added. "Most of the Shenzhen ports are very close to downtown, while the Meishan terminal is far away from the other terminals and the city area, reducing the risk of COVID-19 transmission."
The executive also noted that the Meidong facility handled about 20 percent of Ningbo-Zhoushan's total throughput of 28.7 million TEU last year, while Yantian handled around half of Shenzhen's 26.6 million TEU throughput in 2020.
Difficult peak season awaits retailers shipping via LA-LB
Bill Mongelluzzo, Senior Editor
With a second wave of container dwell times and ships at anchor approaching record levels, congestion in Southern California will get worse over the next three months when import volumes are likely to set new records, according to the executive director of the Port of Los Angeles.
"Volumes will be strong in the traditional peak season due to unrelenting consumer demand," Gene Seroka told a virtual press conference Tuesday.
Seroka said the entire international supply chain is choked, with shipments piling up on factory floors in Asia, COVID-19 outbreaks affecting both port and warehouse labor availability in China and Southeast Asia, and vessels delayed leaving Asian load ports. In the US, ports and inland rail ramps are experiencing congestion issues and chassis shortages, and rail networks are stretched to the point where railroads are forced to pause or meter intermodal services.
While it is too late to produce results for the current peak season, which runs from August through October, the executive director of the largest US container port gave this advice to supply chain participants: "We as an industry need to improve our resiliency," Seroka said.
In the Los Angeles-Long Beach gateway, more vessels are going straight to the "parking lot" at anchorage as they wait for berthing space to open, and they are spending more days at anchor while terminals are working near-record numbers of ships each day, Seroka said.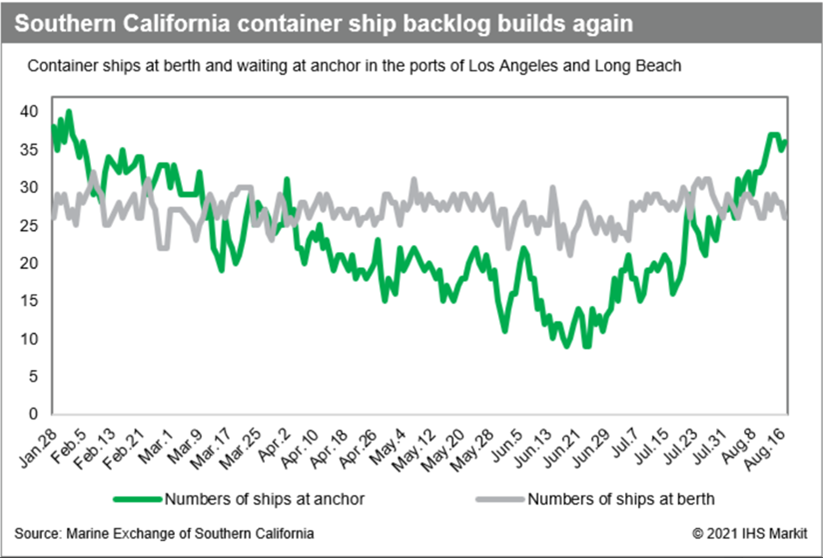 This analysis was confirmed by Tuesday's anchorage report provided by the Marine Exchange of Southern California. There were 36 vessels at anchor outside the ports of Los Angeles and Long Beach, four short of the record set in February, and each vessel is spending an average of 6.9 days at anchor, up from about five days last month. There were 29 container ships being worked at the berths, two less than the all-time record of 31, according to the Marine Exchange.

Container dwell times too high

Container dwell times at the 12 terminals in Los Angeles-Long Beach are at unsustainable levels, congesting the yards and hampering the ability of operators to turn the ships faster at berth. The Pacific Merchant Shipping Association (PMSA), which represents terminal operators on the West Coast, said Wednesday the average dwell time for containers for local delivery in Los Angeles-Long Beach was 5.2 days in July, up from 4.76 days in June.

"The high cargo volumes continue, warehouses remain at capacity and cargo owners are not picking up containers in a reasonable time," said Jessica Alvarenga, PMSA's manager of government affairs.

The average dwell time for containers leaving the harbor via intermodal rail dipped slightly to 11.3 days from 11.8 days in June, although rail container dwells are close to three times what is considered acceptable, according to PMSA.

Seroka said the standard rail container dwell time is four days or less. Today's excessive dwells are not likely to improve in the coming months because the rail networks and rail hubs in the US interior are slammed. "The railroads are maxed out," he said.

All the while, vessels are discharging higher volumes of containers on each call for local and rail delivery, further congesting the terminals and overloading the inland supply chains. In July, according to port statistics, the average container exchange for all vessels calling Los Angeles-Long Beach was 11,276 TEU. Exchanges on ships ranging from about 4,000 TEU capacity to 15,000 TEU capacity are averaged out to reach that number.

"That's the best in the business," Seroka said. By comparison, East Coast ports have an average container exchange of 2,500 to 4,500 TEU per vessel, an East Coast port representative told the JOC Port Performance North America conference in December.

Warehouse congestion fueling chassis shortages

The 1.8 billion square feet of warehouse and distribution space in Southern California is rapidly filling up. As a result, containers carrying imported merchandise are sitting on chassis in the yards of truckers and warehouses, effectively removing each chassis from productive use for more than a week. According to the Pool of Pools website operated by Direct ChassisLink, TRAC Intermodal, and Flexi-Van Leasing, the average street dwell for 40 foot chassis this week is 8.3 days.

Seroka said that due to chassis street dwell times that are more than twice the industry standard of about 3.5 days, the Southern California supply chain needs 3,500 additional chassis per day than are available to offset the lengthy chassis dwells at warehouses.

When laden containers are unloaded at the warehouses, truckers are having difficulty securing appointment slots at the marine terminals for the return of the empties, but the terminals are not solely responsible for the problem, Seroka said. About 30 percent of the available appointment slots, mostly at night, are going unused, he said.

The number of vessels in port each day is scheduled to increase in the coming three months as additional calls are scheduled, according to this week's Sunday Spotlight published by Sea-Intelligence Maritime Analysis. The eastbound trans-Pacific trade is barely two weeks into the peak season, yet there are 53 trans-Pacific services each week to the West Coast, an increase of 15 from last year. The majority of those services are to Los Angeles-Long Beach. By comparison, all-water services to the East Coast total 23 per week, an increase of four from last year, according to the Sunday Spotlight.

Terminal operators in Los Angeles-Long Beach say that each week they entertain inquiries from carriers, shippers, and non-vessel-operating common carriers who are seeking to secure berthing space, so they anticipate the number of vessel calls each week will increase.

Seroka, citing the Global Port Tracker published by the National Retail Federation and Hackett Associates, noted retailers are projecting that August will be the busiest month of the year thus far, so the pressures on all US ports and their supply chain partners will intensify. It is simple math, he said, noting more containers are coming into the ports each week than their facilities and the assets provided by supply chain partners are capable of handling.
Slow steaming, congestion to blunt container capacity injections: Zim
Mark Szakonyi, Executive Editor
Environmentally driven decisions to slow steam ships and overtaxed US ports will blunt significant additions to global capacity, according to Zim Integrated Shipping Services, with the carrier warning the current state of undercapacity could last past 2023 even when a wave of new ships hit the water.
North American demand for Asian goods has outpaced supply since last summer, pushing up spot rates to record levels and enabling Zim to sign trans-Pacific service contracts at rates 50 percent higher than a year ago, Xavier Destriau, executive vice president of the Haifa, Israel-based ocean carrier, told investors Wednesday.
Zim reported $888 million in profit in the second quarter, up from $25 million a year ago, on revenues that jumped 155 percent year over year to $4.1 billion. Volumes surged 44 percent in the same period. The average revenue Zim gained per TEU more than doubled to $2,341. The carrier nearly doubled its full-year outlook for earnings before interest, taxes, depreciation, and amortization (EBITA) from $2.5 to $2.8 billion to $4.8 to $5.2 billion.
Destriau told JOC.com in an interview Wednesday that pressures from the International Maritime Organization and the European Union would force container lines to sail slower starting in 2023 because it is the industry's only way to meet tightening emission standards in the short term.
"What we anticipate is that the first thing that will be asked of us is to reduce carbon emissions. And the only possible way emissions can be reduced is by changing the power of the engine and a ship's speed," he said. That means the industry is going "to need more vessels to handle the same amount of cargo."
The pandemic-driven import surge has overwhelmed many US marine terminals, but Destriau said too many facilities were already operating at full or nearly full capacity before cargo volumes began to spike last summer. That is raising longer-term concerns of just how effectively US ports will be able to handle continued growth and future surges.
The global container ship order book is the largest it has been in five years, at 2.6 million TEU, according to IHS Markit, parent company of JOC.com. The new orders are equal to approximately 17 percent of the industry's existing fleet. Comparatively, the percentage of new orders to the existing fleet was 25.5 percent a decade ago and 50 percent 15 years ago, reflecting how capacity growth has moderated. Notably, Zim charters the vast majority of its fleet, and last month announced a long-term agreement to charter 10 7,000 TEU ships from Seaspan.
"The only way for a ship to become more efficient in compliance with the new rule is to slow steam. As of this day (ie in 2023 when the IMO rule takes effect), a large number of ships will have to run slower. All of the new capacity that was just ordered that entering the market around that time will be absorbed by slow steaming," Thorsten Meincke executive board member for air and ocean freight at DB Schenker, told JOC.com.