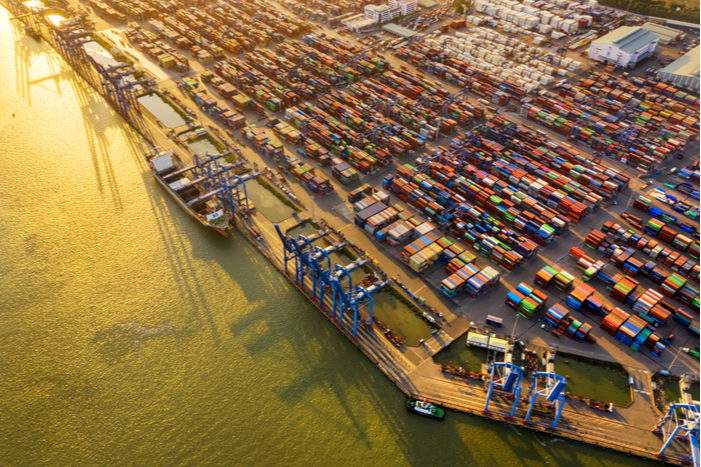 Supply chain fears grow as new COVID-19 surge hits China
Greg Knowler, Senior Europe Editor
Fears are growing that the fast-deteriorating logistics situation in Vietnam could be repeated across China, where the highly infectious COVID-19 Delta Variant has now spread across 15 provinces and mass virus testing is closing off huge parts of cities.
"More cities are issuing stay-at-home orders for their residents as mass tests are being rolled out again," said Mirko Woitzik, senior manager EMEA, intelligence solutions at Everstream Analytics. All residents in Wuhan — a city of 11 million people — will undergo testing within the next few days after a new local outbreak, sealing off parts of an industrial and technology zone.
"While the affected zone was not named, the cluster of infections that led to the mass testing was detected in the Wuhan Economic & Technological Development Zone," Woitzik said. "Depending on how quickly the outbreaks will be brought under control, this could in fact be the beginning of some larger impact on manufacturing and logistics operations in China."
A China-based forwarder told JOC.com although he had not heard of widespread factory closures, that could quickly change if infections were picked up during testing in rural communities that supply most migrant factory workers.
China's economic recovery is underpinned by the government's effective containment measures, IHS Markit, the parent company of the JOC, noted in a recent report. Since May 2020, all local outbreaks in China have been brought under control within weeks through rapid mass testing, effective tracing, and targeted lockdowns.
Wang Zhe, senior economist at the Caixin Insight Group, said in his analysis of the July purchasing manager's index (PMI), compiled with IHS Markit, that the resurgence of COVID-19 in parts of China were impacting logistics chains and leading to a shortage of materials and transport delays.
The impact of COVID-19 infections is regarded by shippers and service providers as one of the greatest threats currently facing container supply chains, a fear that was illustrated by the almost complete closure of Shenzhen's Yantian International Container Terminals, one of the world's busiest terminals, for almost four weeks from late May. Scores of carriers cut Yantian from their schedules, creating a huge bottleneck of export containers that took many weeks to clear.
While Vietnam's container terminals are still operational, COVID-19 infections are spreading across the country, and forwarders and carriers are reporting terminal congestion, full yards, and export delays of three to five days. Their advisories warn that the availability of 40-foot and 40-foot high cube containers in southern Vietnam is "insufficient."
"The situation in Vietnam is getting worse," was the grim assessment of SEKO Logistics in a customer advisory Tuesday, which noted that Ho Chi Minh City and Hanoi were now both under lockdown with a 6 pm curfew until Aug. 15.
The port of Cat Lai, the largest of a network of ports near Ho Chi Minh City, is at full capacity and has suspended the receiving of import and export containers, after labor shortages and handling delays over the past two weeks quickly built up the box backlog.
Barge, trucking heavily disrupted
The congestion at Cat Lai has created a buildup of export containers at the deep water terminal of Cai Mep, the main gateway for southern Vietnam. Shippers prefer to use Cat Lai because, although draft-restricted, it is closer to Ho Chi Minh City, which means cargo must often be barged or trucked 50 miles between the two ports. Those services are heavily disrupted by COVID-19 measures to limit the spread of the virus, making it more difficult to secure berthing windows at Cai Mep, according to carrier HMM.
Maersk said in a July market update that the "escalating COVID-19 situation" and rising export container volume is increasing congestion in Vietnam's ports. The carrier said containers were only allowed to gate-in 72 hours prior to the estimated time of vessel departure, which was creating serious trucking constraints. Drivers must also present a negative COVID-19 certificate, which Maersk said leads to additional costs and longer waiting times.
Woitzik said to ease current levels of congestion, Vietnamese authorities have ordered the suspension of certain import cargo until Aug. 16, and terminals are advising shipping companies to only accept export cargo at the port. That is impacting manufacturers bringing in raw materials or parts for production, as well as transshipment traffic.
Cat Lai will also suspend acceptance of outsized or project cargo from Aug. 5–8 to further improve terminal capacity.
"Containers have been piling up, in particular at Cat Lai Port, where yard capacity stands at 100 percent as dozens of factories in the city have shut down due to COVID-19 restrictions and import containers have not been retrieved from the port facilities," Woitzik told JOC.com.
Some boxes have not been retrieved from yards for months, and that unclaimed cargo will be moved to other port areas and inland container depots to clear space, including Hiep Phuoc Port.
"Since Ho Chi Minh City has once more extended lockdown measures until Aug.15, congestion issues are not expected to significantly improve until factories are allowed to resume full operations," Woitzik said.
CUSTOMER NEWS FROM CN
CN has been advised by the Canada Border Services Agency (CBSA) that officers will be in a legal strike position as of August 6th.
At this stage it is difficult to assess the impact that this strike will have on the flow of traffic at the border. Public comments made by CBSA state that 90% of their officers are considered essential service providers and as such will continue to perform their duties during potential strike action.
On that basis, our understanding is that any business transactions that are electronic with CBSA will be minimally affected by a strike. At CN, we are fully electronic with CBSA reporting of goods into Canada and do not expect our trains to be delayed in crossing the border for that reason. As well, we do not expect delays to CBSA shipment releases where brokers file release entry documents electronically. In the event that an importer's broker or service provider submits paper documents to CBSA as part of their release entry transactions, the processing of those releases may potentially be delayed.
CN will continue to monitor the situation closely and provide updates as the situation evolves.
Please do not hesitate to contact your Account Manager should you have any questions or require further information.
Are You Shipping Me?!? $32,000 Container Move From China To LA
The blows to the global supply chain never seem to end in 2021, resulting in delays that have sharply reduced the system's effective capacity and put upward pressure on shipping rates that began reaching record highs months ago. Purchasing ocean transportation has become so expensive that many companies with lower-value commodities can't afford to import anymore, analysts and logisticians say.
Vessel operators have no extra ships to meet a tidal wave of freight demand, containers are in short supply or can't get quickly repositioned where needed, and destination ports are piling up with boxes because they can't keep up with the volume. The logjam, which is adding weeks of delay for major export trades from Asia, has been exacerbated by a series of weather- and COVID-related events, as well as operational mishaps.
How extreme is the situation?
One ocean carrier told a company it would cost $32,000 to ship a group of standard containers from Shanghai to Los Angeles, Craig Grossgart, senior vice president of ocean at SEKO Logistics, said during a briefing for reporters late last month.
"It was a nice way for the carrier to say, 'We're not interested in any more business,' " Grossgart said.
The quote was an outlier — the type primarily for customers asking to move large backlogs of boxes all at once — but is an indication of how desperate some shippers are and how selective carriers can be when they hold the cards.
On Wednesday, the Freightos Baltic Daily Index adjusted its methodology for tracking ocean shipping rates to include for the first time premium surcharges required for bookings, substantially raising transparency into the real cost paid by cargo owners.
The index shows Asia-U.S. West Coast rates at $18,345, six times higher than a year ago, and the price for shipping to the U.S. East Coast quadrupled to $19,620 per forty-foot equivalent unit. Rates from Asia to Northern Europe climbed 4% since last week, and are more than eight times higher than a year ago and 2.5 times more than at the start of the year.
Sources: JOC, CN, Freight Waves